Welcome to the Pixel Game Maker MV Wiki!
Introduction
[
]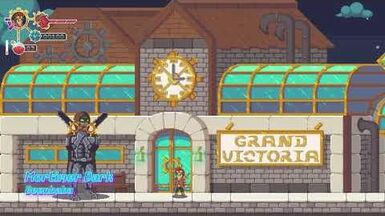 Pixel Game Maker MV, released as "Action Game Tsukuru" (アクションゲームツクール) in Japan, is a 2D action game production software published by PLAYISM, a Japanese publisher and developed by Gotcha Gotcha Games. The software is abbreviated to "Actsuku" amongst the Japanese community and to PGMMV in English. The early access version of PGMMV was newly released by KADOKAWA as a beta version on July 24, 2018. It was released on Steam on 19 September, 2019. PGMMV allows users to build their own genre game with no programming knowledge necessary. games
System Requirements
[
]
The software can operate with the following minimum system requirements:
64-bit processor and operating system
OS: Windows 8/8.1/10 (64bit)
Processor: Intel Core2 Duo and 2.0GHz or better
Memory: 4 GB RAM
Graphics: DirectX 9/OpenGL 4.1 capable GPU
Storage: 1 GB available space
Game Development Process
[
]
The process of creating games in PGMMV is through point-and-click. The engine supports JavaScript and CoffeeScript however programming knowledge is not required. Users can select between two templates for their game, namely Top-View and Side-View games. Once selected, users are able to manage the Scene Screen and transition logic between scenes, import Resources and Data such as fonts, or spritesheets for adding animations and tilesets. Programming the behaviour trees of non-player character, player characters and other objects is then carried out through Action Programs. A number of games made with PGMMV have been published on various platforms.
Quick Links
[
]
How to Design AI in Pixel Game Maker MV
Community Resources
[
]
Tutorial: How to Script for Beginners
Article Count
[
]
This wiki currently has 183
articles
.