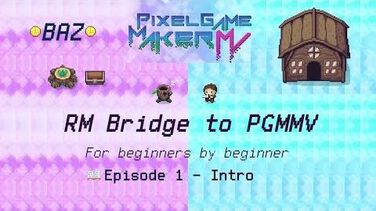 This is a BASIC tutorial series for Pixel Game Maker MV (PGMMV). It's to help bridge the learning curve for those coming from the RPGMaker engines (or any engine), as there are many differences in setting up basic things, like movement or simple actions. This is also a very basic "top down" tutorial for a zeldalike as there really are none available. Pixel Game Maker MV is a fun engine and I hope you give it a shot! This first video shows how to create a project and what resources are available for the community!
Full Playlist:
Adding Resources and Creating Scenes
Tile Colliders and Scene Layers
Player Attack Animation/Detection
Changing Opacity Behind Objects
Refactor - Pickups (FoV) / Sequence for Overlaps / Player Group
Making an Enemy / Field of Vision
Hit Enemy with Bullets / Multiple Field of Visions
Exporting and Importing Objects
While this series ended, I may add a couple more tutorials for making a menu to complete the game loop!
Community content is available under
CC-BY-SA
unless otherwise noted.